Glitchtale Wikia
Welcome
I know its 01:59 23 March, 2018 in your place.

Welcome to the changing world of Glitchtale and on a beautiful "Friday."

Glitchtale is an animation of a glitched timeline story that revolves around a failed Genocide Route, that transforms the timeline to a point where characters like Dr. Gaster and Chara have been revived fully. Glitchtale was created on Feb 27, 2016, by Camila Cuevas.

Glitchtale is one of the Undertale's Alternate Timelines (AT).

Remember, the story cannot be predicted that easily. This Wiki is a collective work for the show itself. Feel free to drop by and edit. Keep in your mind, the Wiki is still at development phase and Glitchtale Wiki is not fully completed yet, for now, we're still working on it everyday.

There are currently 186 articles, 3,509 files, 8 active administrators, 67 active users, 108 contents and total 69,502 edits made on this wiki. If you want to help us and increase Wiki's progress, you can create a "new page". To see our community, "Click Here".


Since July 11, 2016, this Wikia is under service of Glitchtale.
Rules
Before you add information to any page, make sure that information is correct, if your information is not true then your edit will be deleted and maybe you can get a warning.
Don't vandalize any pages, if you do that, in this case, you will be punished. The punishment will be an infinite account ban, and also an infinite IP ban.
Don't make any troll edits, if you do that, you can get a warning or a ban.
Don't create spam articles.
Try not to use profane language as much as you can on page comments section or on other places of the Wiki.
Characters ships are forbidden in this wiki!
NSFW images are forbidden in this wiki!
Avoid creating or causing wiki dramas.
Talk respectfully with other users and don't start arguments.
Please show respect to users' opinions.
Please don't add Camila's twitch live stream spoilers and screenshots to Wiki before the episode being animated is released.
We are only creating official content so don't add any fan related stuff to articles.
Staff Members

Usernames
Permission
Status

Founder
Leader
Owner
Bureaucrat
Bureaucrat
Administrator
Administrator
Moderator
Moderator
Moderator
Moderator

Unknown
Active
Globally blocked
Left the Wikia
Left the Wikia
Active
Active
Semi-Active
Active
Active
Active
Polls
What was the most thing you like on the Second Anniversary of Glitchtale?

 

Which Glitchtale battle theme is your favorite?

 

Which soundtrack do you prefer?

 

Who is your favorite Main Antagonist of Glitchtale/Undertale?

 

What is your favorite Soul Trait?

 

What is your favorite location or building?

 

In the world of Glitchtale, more specific on Season 2. There can't be more resets, the button is completely broken and the save/load function was destroyed along with it. Here's the thing, if you are put into a position where things are really messed up, what will you do?

 
Also, you can see former and completed Poll Archives.
Feeds
Facebook Feed
Facebook Feed
Camila Cuevas
Featured Article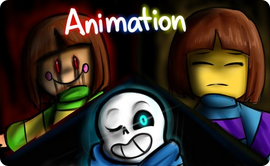 In a Genocide Run, Frisk arrives at the Judgement Hall to face Sans. But something gets in Frisk's way...

Discord Server
If you see this, your JavaScript might be disabled or DiscordIntegrator plugin isn't working. If the latter, please contact a wiki administrator.
Latest Blogs
Create blog post
I'm proud C: I love pixel art :D Originally, before I finished it, the image was of my O.C but I ditched that series and said O.C a while ago haha! So I decided to edit some things around and turn it…

Read more >

I found an archive that contains all Cami's Tumblr posts about Glitchtale's Lore! since 2 July 2017, there's no activity in the archive, that means the archive is currently inactive but still, it con…

Read more >

Remember how Doki Doki made me rethink my depression?

Well a certain game helped too.

I don't ant to say it cured it, but t did a lot.

Here goes.

KIRBY

STAR 

ALLIES.

https://twitter.com/twitter/statuses/974…

Read more >
See more >
---
---